Welcome to the Shadytel Electronic Merchandise Emporium
(now reachable from most packet-switched public data networks!)
Here, Shadytel offers for sale items which you can buy for postal delivery.
Shipping from Shadytel to anywhere in the United States is free! The rest of the world is $3 per order.
If you have questions, send an email to Shadytel Shopping Support.
64k Java SIM Card (no longer available)
$5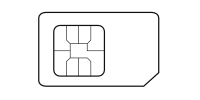 This quality SIM card comes in its full-size matte textured card holder, ready for you to snap out (which can be very satisfying, even addictive). Each card is individually numbered, and ships with a label detailing all the numbers and keys programmed into the card — including the OTA programming key, the Ki key for GSM A5/1 encryption, and all the unblocking codes.
Each SIM is individually printed with a unique serial number (the IMSI) for easy reference. Aside from this number, each SIM is completely white.
These SIM cards can be programmed multiple times with Java applets of your own devising. Makefile-compatible tools for programming SIM cards and an example applet to get you started are freely available.
Unlocked Java SIM cards are very difficult to find. This is a rare opportunity for hobbyist developers to get their hands dirty with SIM card development.
Datasheet from manufacturer.
PC/SC USB SIM Card Reader/Writer (Buy on AliExpress or DealExtreme)
Each PC/SC reader is individually packaged by some person in a far-off land, ensuring it does not spoil or rot before the delivery process has been completed.
This model of reader has been verified to work with Windows, Mac OS X, and Linux. Any standard PC/SC reader should work as well.